Berina Verlašević started her EVS project 3 months ago in Pula within the NGO ROJC. How does she feel and how her first 3 months looked read in here story.
Hi, I am very happy that I am in Pula, and doing my EVS in ROJC within Dnevni boravak!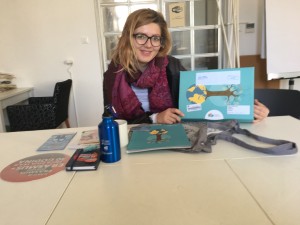 It's been almost three months and time went really, really quickly.. Collecting some of the pictures to give at least some atmosphere from Pula made me aware that I've been part of some bigger as well as smaller projects going around ROJC, and mostly in Dnevni boravak (living room) where we are based volunteers.
As ROJC is a community and cultural place full of diversity of places/people/activities/things happening inside and outside – it is inevitable not to be happy being part of it, and having experience, observation and fluttation among all of it.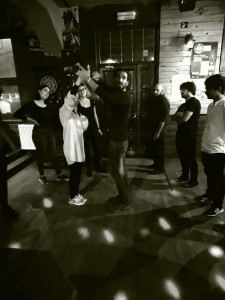 Dnevni boravk where Savez Udruga ROJC is based is a common spot for all people and guests, as well as all citizents of Pula. In those three months there have been numerous of exhibitions, promotions of books, projections of movies, gatherings of different minnorities, several different actions, realizations of different projects, etc. We are two volunteers here in Dnevni boravak, Criss and me. We have been involved in almost all happenings – as assisting of event, help in organizing events, streaming projections, taking care of place of Dnevni boravak, working on info pult, photographing and video recording and editing of events, doing posters/banners, promoting volunterism, working with children, working on radio, participating on different workshops going inside ROJC, etc.
Events I would like to emphasize are following:
Radio na ledu (this was the project which had less than one month preparation and it was a 48hours radio with its own frequency, and online streaming – it was a big project, and it was so successful that this radio might continue; people were amazed by its concept, shows, guests, alternativity, positive vibes and Cristina and me were involved – we did news 8 times in every 24h called CBN (Cristina & Berina News or Central Balkan News) where we were sharing with listeners new news in last days which were intrigued, positive and interesting and news were in Bosnian and Spanish; also we had our own show where in last hour of radio we presented ourselves, and we talked about our experience and EVS in general). It was an amazing project, we worked hard; I did for the first time recording of jingles in real studio, reading the news live on radio; and having seen how radio functions.. Working with super quality group of people who showed me that realization of idea in which you believe with support of people who share that idea is really possible! And, funniest part was that these 48 hours were before holidays and Cristimas, and after we finished on Sunday, 24th December, at noon – it was hard to believe that end came, that there is no more, and that we are done.. I felt people wanted to continue working no matter it were holidays!
TiDam TiDaš (this was the event going on in Dnevni boravak where citizents of Pula were invited and the concept was exchange of clothes – so it went as e.g. you bring 5 pieces of clothes/toys/books/jewellery/CD-s/house equipment/etc. and you receive 5 stickers which you exchange for some of pieces you liked inthere. The best thing which I responded on was the emotion of people; people were happy and no money was included, and everything was based on exchange! It really stayed in my mind, and I will do similar events in my country.)
Paradoks fikcije (workshop outside of Dnevni boravak which was organized by one of ROJC organizations – Metamedia. This workshop was an open call for graphic designers on Balkan where we were discussing about importance of text and visuals in design; and about reusage of abbonded places. It was group of young people from graphic design field from Croatia, Serbia and Bosnia and Herzegovina. We had a five workholic days full of presentations, visits, projections of movies, having approach to old documents and books, etc. and at the end we had an exhibition in old part of city of Pula, in SKUC (Srpski Kulturni Centar).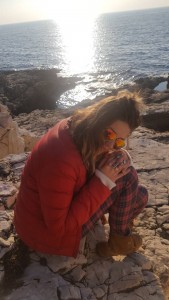 I will say that living with Spanish girl same age as me is super cool since we are totally two different cultures, and we are here together in sence of volunteering – working in Dnevni boravak, being roomates, and also friends since we spend a lot of free time together. I really fall in love with Pula, since it has rich cultural heritage side, its old part of the city, as well as all buildings, houses and institutions around center; and other part is sea and its nature. You can do everything by walking around and I love it. We also got bikes, so sometimes we do small tours by bikes. And, last week I started attending Italian lessons, and in next report I will maybe write small introduction in Italian!
Until now, many experiences.. And, doing a long EVS is more and more showing me its full potential and sense which it has – in sense of how big experience in life it is, and that it is is much more than "living and volunteering in another country"!