Sailing4Youth is a project in cooperation between Fondacija Krila Nade/ Foundation Wings of Hope (Sarajevo, BiH) and Cat-MaRe gUG (Germany) and aims at promoting social integration and engagement in Bosnian teenagers by giving them the opportunity to experience themselves as an integral part of a society in which they can and should be actively participating in order to effect change. It tackles the social challenges that young people are experiencing. Crucial for the approach is a one-week sailing trip on a Catamaran. This trip will enhance skills and knowledge, which will be acquired in a previous workshop. Therefore the possible learning success is on its highest level, as the theoretical contents, which are taught and trained through non-formal methods, can be directly tried out and strengthened in practice by taking part in a temporary formed tight
community, the sailing crew.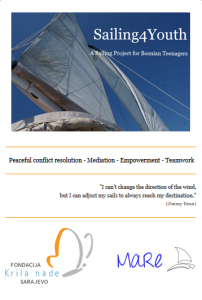 The focused topics of the presailing workshops are peaceful conflict resolution and mediation, but also the strengthening of social skills and teamwork in general. On the following sailing trip the previous learned mediation skills will support and facilitate the social interaction and contribute to a peaceful togetherness. As on board there is only narrow space, and thus peaceful togetherness is essential for everyone's well-being, the participants train their gained skills and foster them through the direct use and experience. Besides that they are actively involved in upcoming tasks as well as everyday responsibilities on board, which teaches them how everyone has to make its contribution to the community to make it work. These tasks include the sailing tasks and know-how itself, as well as cleaning, cooking etc..
More information about the project in English can be found here: Project description and a short Project Overview can be found here in English Project Overview and in German here Projektübersicht.