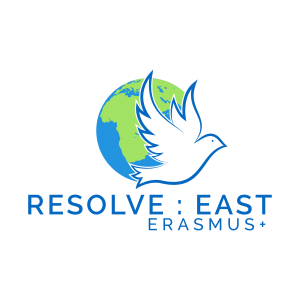 RESOLVE:EAST is a reconciliation youth exchange & network programme, which aims to use the power of Conflict Resolution tools such as Simulation Games, Sport for Peace and wider reconciliation tools and learning to resolve local and community-level conflicts, which will at the end enable them to be social leaders and mediators within their societies.
RESOLVE:EAST is a small European-wide partnership involving 4 partners and 4 youth exchange activities which will take place in:
Sarajevo, B&H (November 2018);
Istanbul, Turkey (December);
Tbilisi, Georgia (January 2019);
London, UK (February 2019).
This youth exchange Programme aims to develop young peoples' skill sets, launch a youth-led Network and support young people to deliver their own local conflict resolution activities. Also young people will not only participate on a unique transnational learning activity, but will also develop leadership and team-working skills, social action and citizenship outlooks and a wide range of competences, essential for their communities, their country and Europe.
Throughout the activities, participants will develop a wide range of further cognitive and non-cognitive skills including:
Leadership
Team skills
Communication
Mediation
Project design
Creative skills
Social Awareness
Mindfulness meditation
The youth exchanges will be organised on the following dates:
Sarajevo, Bosnia & Herzegovina
Travel dates: Monday 5th November 2018 – Sunday 11th November 2018
Activity dates: Tuesday 6th November 2018 – Saturday 10th November 2018
Travel dates: Monday 10th December 2018 to Sunday 16th December 2018
Activity dates: Tuesday 11th December 2018 to Saturday 15th December
2018
Travel dates: Monday 21st January 2018 to Sunday 27th January 2018
Activity dates: Tuesday 22nd January 2018 to Saturday 26th January
2018
Travel dates: Tuesday 5th February 2019 to Monday 11th February 2019
Activity dates: Wednesday 6th February 2019 to Sunday 10th February 2019
To apply for this Erasmus+ project, you must meet the following criteria:
Aged 18 to 30;
Be able to communicate in English;
Be a citizen of Bosnia and Herzegovina and
Hold a passport with a minimum of 12 months before expiry.
This project is financed by the Erasmus+ Youth in Action Programme. Being selected as a participant, all costs (accommodation, travel, visa, etc.) relevant to participation in the course will be covered by the organisers of the youth exchanges.